Summit CMV24 Stainless Steel 24 Inch Wide Speed Oven
---
Item condition:

New

Time left:

22d
Shipping:

FREE

Item location:

Waterloo,IA,USA

Ships to:

Worldwide
Item specifics
California Prop 65 Warning:

Warning: This product can expose you to chemicals including Nickel (Metallic), known by the state of California to cause cancer.

MPN:

CMV24

Fuel Type:

Electric

Number of Ovens:

Single Oven

Features:

Grill Oven

Finish:

Stainless Steel

Brand:

Summit

Model:

Combo Oven
---
Summit CMV24 24 Inch Wide Speed Oven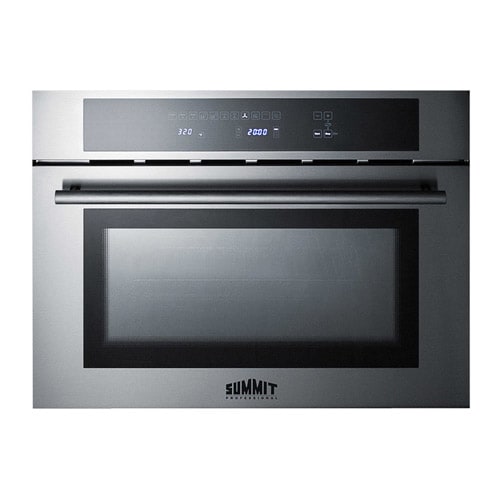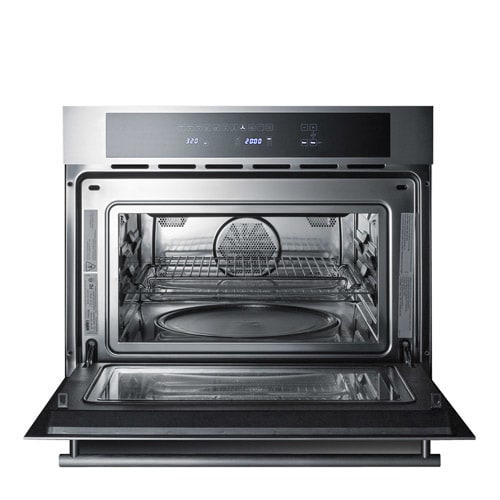 Note, Images may included different finishes & other products not included in listing.
Item Description
The Summit 24" Speed Oven (CMV24) is an incredibly versatile cooking tool. Behind its simple, elegant, Stainless Steel exterior lies the ability to cook as a microwave, broiler, oven, or convection oven. Its double-paned glass door and steel are easy to clean, and its digital control panel offers quick access to myriad functions. As a microwave, the unit can cook at five different powers, and works together with broiling and hot-air functions for precise control over taste, texture, and temperature. As its name would imply, the speed oven also works great as both a traditional oven and convection oven, and includes other features such as a safety lock, two-piece broiler tray, automatic functions, glass turntable.
Gorgeous Design:Black trim and Stainless Steel design work together to create a timeless, attractive look that fits into any kitchen
Versatile:This speed oven can operate as a convection oven, microwave, and broiler for maximum control over cooking
Attractive and Accessible Control Panel:The oven's control panel features a digital display and digital touch controls for quick access to a boon of functions
Stainless Steel
Single
42
18
23.5
21.88
Halogen
No
761101048529
About Us
About Us
Build is the second-largest and fastest-growing online home improvement retailer. At Build, our goal is to provide the best selection, pricing, and unmatched customer service. Our store has quality home improvement products from trusted manufacturers like Kohler, Moen, American Standard, Delta, Kraus, Kichler, Progress Lighting, Schlage, Kwikset, Baldwin, Broan, NuTone, Air King, and Rev-A-Shelf.


Shop with confidence
We pride ourselves on our customer service, so if you find any problems with your order please contact us and we would be glad to help. We offer returns and exchanges for items that were purchased incorrectly whether it didn't work for your project or if it wasn't what you wanted. If in the rare case a product comes damaged in anyway please contact us asap and we will make sure to replace or refund you for the purchase. For full details on returns or exchanges please visit our FAQ contact us by Clicking Here or (800) 375-5107.
Build on Social Media
Build is excited to participate on numerous social networks, allowing us to communicate better with our customers. We are on sites such as Facebook, Twitter, YouTube, LinkedIn, Google+, and Pinterest. Be sure to check our profile pages regularly for discounts, handy home improvement tips, and cool design ideas.
Shipping
Shipping
General Shipping Policy
Build has tried to make its shipping and handling prices and policies as fair as possible, so you benefit from our competitive pricing, plus the convenience of delivery to your door.
For your convenience, we offer three shipping options: Standard Ground, Two Day Air, and Next Day Air. If you ordered two or more items, you may receive them in multiple boxes on different days, because of varying item availability and shipping locations. We do not charge you extra shipping for split shipments.
Because Next Day and Two Day delivery service involve air transport, some items cannot be shipped via these options. Items containing hazardous or regulated materials or some very large or heavy items must be shipped to you via freight carrier-these items are identified at time of purchase.
From the big to the small, we ship it all (mostly). Every shipment method we use is trackable and insured. Below is a list of our shipment methods and their shipping times. All shipment times are shown in business days, which is Monday through Friday (no weekends), excluding holidays.*
Shipment times are average and remote locations, shipments during the winter holiday season, and cases of extreme weather may exceed the mentioned shipment times.1
Standard shipping—This means UPS, FedEx, DHL, USPS, or another common carrier that provides insurance and tracking. Shipments often need to be signed for, but shipments can also be left at the driver's discretion. Items shipped by this method have several "speeds":

Standard Ground Shipping: 5-7 business days. This is our usual "Free Shipping" method. Shipments that are eligible for Free Shipping will have this option available. Shipment times are 5-7 business days.
Second Day Air: The shipment time on this package is 2 business days—the day following the ship-day is the first day. For example, an item that ships on Friday (not counting Saturday or Sunday) will arrive on Tuesday. For non-contiguous states and territories, we recommend this method for shipping—the ship time for these locations is about 2-3 business days.
Next Day Air: The shipment time on this is 1 business day. An item will be delivered the following business day if the carrier receives that item in time for their daily cut-off (which varies by carrier). NOTE: When choosing this method, please be aware of Expected Time To Ship of the products (warehouse turn-around).

"Curb Side Delivery" - AKA Freight or "LTL" Shipping—This is reserved for large, heavy, or oversized items such as large sinks, bathtubs, shower doors, etc. Items are palletized and loaded onto a large truck for shipment. Items are delivered by scheduled appointment by lift-gate for to-the-curb service. Be sure that all items are inspected for freight damage - by you - prior to the driver leaving. Any concealed damage must be reported within 7 business days. Any concealed damage reported to us after 7 days may no longer be eligible for a refund of any shipping costs paid, due to our inability to file a freight claim with the original carrier; Most carriers only accept claims for 7 days following delivery. Typical shipment time for freight deliveries is 7-10 business days.
1 Shipment time is the expected time from when a package leaves the warehouse, enters the carrier's service to when it arrives at the customer's shipment address. Expected Time to Ship (the time from when an order is placed to when an item is given to the shipment carrier) varies by product. Please read your product's details for further information.
We do our best to ensure that shipping is correctly calculated before you purchase; however, at times it may not be possible to do so accurately.
Estimated Shipment Times
If your order is received before 11 A.M. Pacific Time, you can expect it to ship as follows:
Plumbing (faucets, bathtubs, toilets, sinks, etc.): usually ships within 2 business days.
Lighting Fixtures: usually ship within 3 business days.
Hardware (door knobs, door levers, hinges, cabinet pulls, etc.): usually ships within 3 business days.
Ventilation (bath fans, range hoods, air purifiers): usually ships within 2 business days.
Tools (power tools, air tools, generators, etc.): usually ship within 3 business days.
During holidays, any orders received will not be processed until the next business day.
Where can I have my order shipped?
We can ship anywhere within the United States (yup, all 50 states). If you live in one of the US Territories or Protectorates (US Virgin Islands, Puerto Rico, Guam, etc.), Canada, or have an APO/FPO/DPO address then please call us at (800) 375-5107 to obtain a custom shipping quote and to place your order. If you live outside of the United States we use eBays Global Shipping Program to fulfill orders and more information can be found on our FAQ.
Shipping & Order Confirmations
Shortly after placing your order, you'll receive an email confirming that we've received your order. You'll receive a second email when your order has shipped. (You'll receive more than one shipment confirmation email if your order is fulfilled in multiple shipments). Please save these email invoices for your records.
Shipping Rates
Build offers free shipping on many orders delivered by Standard Ground to the 48 contiguous states*. Free shipping offer does not apply to Alaska, Hawaii, or any international destination. Free shipping offer does not apply to items that ship via freight. To select free shipping, simply click on the "Calculate" link and enter your zip code:
Returns
Returns
General or defective returns are accepted for items fulfilled by Build. We accept general and defective returns up to 30 days after receipt. There's no minimum value on returns. We do not charge restocking fees. Clearance/Liquidation/Closeout items and all appliances may only be returned if found to be defective, or damaged upon delivery.
Qualifications for a general return:
Return requested within 30 days of delivery
Must be in resalable condition
Must be free from scratches and/or defects
Must not have been installed
Must be in the original manufacturerâs box and packaging
May not have any writing on the original packaging
May not be missing pieces
Must not be a clearance/liquidation/closeout item
Qualifications for a defective return:
Return requested within 30 days of delivery
Has a defect that hinders its usability for the purpose in which it was designed and manufactured
Gas powered items that have had gasoline put in them are not returnable due to shipping restrictions on hazardous materials. Once gasoline has been put in the tank the item immediately falls under manufacturer warranty. You may contact us or the manufacturer in order to locate a service center near you.
You can also cancel items that have not been shipped yet. To cancel an order that has not yet shipped, please call our customer service department immediately. Once an item or an order has been shipped it cannot be canceled, and you will have to process a general return.
Build.com is not responsible for any labor costs related to handling, installing, or uninstalling items purchased. Items that have had gasoline in them are NOT returnable due to shipping restrictions of hazardous materials. Items that are special ordered may not be returnable. If an item is defective or damaged, we will issue credit in full or provide replacement parts. If you're uncertain about any part of this return policy information, or if you have unanswered questions, please contact our customer service team (detail below):

Build.com Customer Service:
Phone - (800)375-5107
How to Setup a Return
Setting up a return request online is quick and easy; just login to your eBay account and access the return request tool. Once you've submitted a return request, you'll receive an email with an approved RGA number or a denial within 48 hours. Reasons or additional instructions will be provided with any denials. Return shipments must use a carrier who offers tracking (like UPS). Please avoid non-traceable carriers (like US Postal Service). All items must be returned with the return goods authorization (RGA) number provided. The RGA will be sent via e-mail. Items returned without an RGA number may experience credit delays. By default, low-cost pre-paid labels (PPLs) or Bill of Ladings (BOLs) are provided for all returns. For general returns, the cost to ship the item back is deducted from your credit amount once the item is received and inspected by our warehouse. You may opt-out of receiving a PPL or BOL by contacting our customer service team (detail above). If you opt-out, then you must provide us with valid tracking information to receive your credit and avoid processing delays.
Order Cancellation Requests
Cancellation requests must be processed by a customer service team member. Please contact our customer service team (detail above). Speaking with a team member allows us to review and process your request as fast as possible. We can only cancel an order if it has not shipped. Once the order is en route, it then becomes a return and must follow our return policy (detail above).
We will do our best to process the return quickly.
Please allow 14-21 days for processing. Refunds will be credited to the original purchasing PayPal account.
Contact Us
Contact Us
Phone - Customer Service / Sales
We can be reached at (800) 375-5107 or by
Clicking Here
.
Our call center hours are:
Monday through Friday: 5:00 am to 6:00 pm PST
Saturday: 9:00 am to 2:00 pm PST
Sunday: 9:00 am to 2:00 pm PST
Build observes the following holidays, and will be closed:
New Year's Day, January 1
Easter Sunday
Independence Day, July 4th
Thanksgiving Day, 4th Thursday in November
Day After Thanksgiving
Christmas Eve Day, December 24
Christmas Day, December 25
Returns / Order Cancellations
For more information on the returns process please review our
returns policy
.
If you have a cancellation request, we highly recommend contacting our call center staff at (800) 375-5107 as this allows us to process your cancellation request as quickly as possible. If you would like to view more information on the cancellation process and what it entails please see our cancellation policy on the returns page.
Physical / Postal Address
Need to write us by mail? Please use the following address:
Build.com, Inc.
402 Otterson Dr, Ste 100
Chico, CA 95973
** Returns must be pre-authorized and are returned to their original shipping center. Please check your Return Goods Authorization email for the proper return address.
FAQ
FAQ
Do you offer combined shipping?
Yes. The best method for getting combined shipping is to use the "Add to Cart" button on the listing, build a single cart of all the items you are wanting to purchase, and then checkout once, this will ensure that if your order qualifies for free shipping you will not be charged for shipping.
Where do you ship from for US buyers?
We have distribution centers all over the United States and will ship from the closest one to your location where the product is in stock.
Can I get a discount?
We pride ourselves on not only low price, but also great service, but we can occasionally offer discounts on volume purchases. If you want to buy multiple quantities of the same product, multiple different products or found the item cheaper somewhere else please contact us and we will respond within 48 hours if we are able to offer a discount.
Do you ship internationally?
Yes, we use eBay's Global Shipping Program to ship to International buyers. We offers this program on most of our items but not all. You are responsible for knowing the compatibility of products for your country as we will NOT accept returns or exchanges from international buyers.
How much is international shipping?
Shipping will be fully calculated at checkout and will include any appropriate duties/taxes for your country. EBay calculates the final shipping since we use eBay's Global Shipping Program for international buyers. We do not accept returns or exchanges for international shipments so make sure the product will work in your country before purchase.
Will I receive a tracking number for international shipments?
Yes, you will receive multiple tracking numbers. One will be from us for the tracking from our distribution center to eBay's Global Shipping Program distribution center. EBay will then send you tracking number/s from the shipment from their warehouse to you. EBay is responsible for all shipping once the package leaves it's distribution center.
What countries do you ship to?
We ship to almost all countries, but not all for all products. We use eBay's Global Shipping Program for international buyers, so if you are unable to checkout because of where you live we will not be able to ship to you.
Do you offer combined shipping on international shipments?
Yes, but you must add all products to the cart before checking out. We use eBay's Global Shipping Program for international buyers and eBay will calculate your final shipping costs since they are responsible for shipping the product to you. If you do not add all items to the cart you will not get a combined rate.
What is the return policy for international buyers?
We do not accept any returns or exchanges for any reason from international buyers. It is your responsibility to know if a product will be compatible for your country. We cannot offer advice if a product will work for your country or application.
What if my item arrives damaged, such as broken glass, or incomplete for an international shipment?
If you bought your item through eBay's GSP and it arrives damaged or incomplete you will have to contact eBay to place your claim. We are not responsible for the shipment once it leaves the US. Some products have a higher chance of damage, such as glass in lighting products, so please take this into account when you make your purchase. We will not replace glass if is arrives damaged.
I live outside of the US, will the product work for me?
If you are an international buyer it is your responsibility to know if a product will work for your country and application. We cannot give advice on compatibility since we do not know all the building codes, regulations and standards for all countries. We do not accept returns or exchanges for any reason from international buyers.
Where do you ship from for international buyers?
We have distribution centers all over the United States and will ship from the closest one to eBay's Global Shipping Program distribution center where the product is in stock. Once we ship to eBay's GSP distribution center, eBay will ship the package to you.
Frooition www.frooition.com | No-js Template | eBay design, eBay store design, eBay shop design, eBay template design, eBay listing design (ver:froo_no_js)
This listing is currently undergoing maintenance, we apologise for any inconvenience caused.
---
See what other people are watching